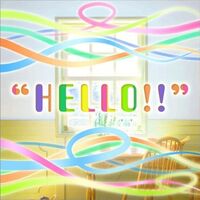 "HELLO!!" is an original song that first appeared in 'THE iDOLM@STER Dearly Stars'.  It made its debut at THE IDOLM@STER 4th ANNIVERSARY PARTY SPECIAL DREAM TOUR'S!! IN TOKYO and is the Image song of the unit Dearly Stars.
876 Productions
Ai Hidaka (CV: Haruka Tomatsu)

Eri Mizutani (CV: Kana Hanazawa)

Ryo Akizuki (CV: Yuko Sanpei)
Ima mezashiteku
Watashi dake no SUTOORII
BRAND NEW TOUCH hajimeyou
SAY "HELLO!!"

Saa egao ni narou




Motto ashita o suki ni nareru you ni




Saa namida ni narou




Kitto mae yori tsuyoku nareru you ni



Kyoukasho ga subete janai




Seikai nante nai sekai




Itsuka mitai tsukamitai


Massugu ni susumu hikari

Ima atarashiku
Egaki dashita STAGE
Yume ni naru ai ni naru
Hora nandatte honto ni naru
Mezashiteku watashi dake no SUTOORII
BRAND NEW TOUCH hajimeyou
SAY "HELLO!!"

Mayou koto mo aru




Toki ni kurushii kotomo aru keredo




Yareba dekirun datte




Sore ga jibun to kyou no ai kotoba



Donna HAADORU datte




KURIA o shiteiku RIARU




Suki na desu kini narun desu


Zettai makenai negai

Ima atarashiku
Ugoki dashita STAGE
Yume dakara ai dakara
Mou itsudatte honki de itai
Mezashite kou watashi tachi no SUTOORII
BRAND NEW TOUCH owaranai
SAY "HELLO!!"

Ima sakihokoru




Mebaeta tsubomi




Me o hatte mune hatte




Nee

 ikutsumo minoraseyou
Dakishimeru watashi to yuu HISUTORII
BRAND NEW tachi hajimari wa
Sou "HELLO!!"

Community content is available under
CC-BY-SA
unless otherwise noted.