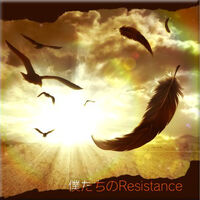 Boku-tachi no Resistance is an original song that first appeared in THE iDOLM@STER Platinum Stars as a DLC song.
Performed By
Edit
Miki Hoshii (CV: Akiko Hasegawa)

Chihaya Kisaragi (CV: Asami Imai)

Yayoi Takatsuki (CV: Mayako Nigo)

Hibiki Ganaha (CV: Manami Numakura)
Yodonda sora ni

 

tozasareta kibou kasane


Akirameta mama de tsukameru hazunai yume

Yowakute chiisana kokoro kaetakute crash!

Tachiagare! Tsuyoku tsuyoku 

chikara ni naru boku-tachi no REJISUTANSU


FURU SUPIIDO de kimero! Start! 

Mienai mirai tomo ni kakenukete ikou!


Sousa! Gamushara ni tsukisusume!
Michi o kirihirake!!

Nemurenai yoru wa fuan ni oshitsubusare
Azawarau you ni fukai soko narihibiite

Kokoro no kagi kowashite hashiridase! Dive!

Mae o muke! Mukaikaze 

makenai PAWAA nakama o shinjite ikou


Nandodemo tachiagare! 

Akirameru na! Soko ni kitto arunda


Dakedo kono mama ja owarenai
Asu o buhhanase!!

Mayoi nagara susumu saki ni wa kitto mezashiteru hikari
Go! Furimuku na!! Go!! Tamerau na!!
Itsuka We get for it!

Mae o muke!

 

Hitori janai




Makenai PAWAA

 

nakama o shinjite ikou


Nandodemo tachiagare! Akirameru na! Soko ni zettai arunda
Souda! Tadoritsuku sono hi made nandomo buhhanase!!

Community content is available under
CC-BY-SA
unless otherwise noted.