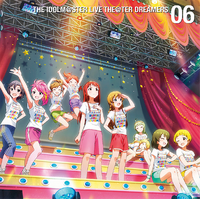 Emergence Vibe is an original song that first appeared on THE IDOLM@STER LIVE THE@TER DREAMERS 06.
Performed by
Edit
765 MILLIONSTARS
Miki Hoshii (CV: Akiko Hasegawa)

​

Elena Shimabara (CV: Asuka Kakumoto)

​
Osaekondetan desho?

 

Oboe no nai shoudou o




Koukishin dake janai Generation




Itami...

 

shigeki?

 

Uzuki...

 

kyoumi?

 

Kawaki...

hoshii?




Sou ne

 

wana ni ochite mitai Generation



Shiritaku nattan desho? Kakushiyou mo nai hodo




Modorenai anata no Evolution
Nozomi...

 

shigeki?

 


Negai...

 

kyoumi?




Zenbu...

 

hoshii?

 


Tabun,

 

tomaranaku naru wa yo Evolution



Dareka no shisen o kanjite hajimaru no yo




Mezameru sono toki nuide shimau no ne


Junpaku no karen na DORESU o

Nee Emergence Vibe furueteru mada yawarakai hane ni
Doushitemo furetai nara...wakaru wa ne? Sotto yasashiku
Umarekawatta bakari, sugu ni kowarechau kara

Doushichattan darou, kanjita koto nai atsui omoi




Mune no oku no hou ga shibireru you na,

 mitaiken Sence & Feeling


Nanika tannai?

 

Sou omowanai?

 Sore wa RUUJU ya neiru ja dekinai MEIKU

"Yubi no saki kara tsutawatte kuru no..."

Karada ga kokoro o tsukuri kaete shimau wa




Shizumikomu keiken

 anata no iro ni naru

Kigae oeta no kashira?...Sensaide daitan na DORESU ni

Sou Emergence Vibe furueteru yorokobi o shitta hane ga
Mou kinou to wa chigau koto...wakaru nara, motto tsuyoku
Sou Relation's Cave sasoikomu yorokobi o shitta emi ga
Koboretara kizuku no yo, zutto hoshikatta mono ni

Dakishimete...tsume no ato o...nokosu kurai...motto tsuyoku

Sore ga owatta no nara,

 

habataite mo ii koro


Kirei na iro no hane o, kiite mite ii deshou?

Community content is available under
CC-BY-SA
unless otherwise noted.