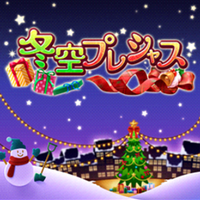 Fuyuzora Precious is an original song appearing on THE IDOLM@STER CINDERELLA GIRLS MASTER SEASONS WINTER! as a passion-type winter themed song.
Performed By
Edit
Sanae Katagiri (CV: Azumi Waki)

Yuki Himekawa (CV: Mako Morino)

Emi Namba(CV: Arisa Date)
Shararara shararara
Mada kana Precious Darling!

Sunda kuuki o mune ni tsumekondara
Sowasowa shita no




Choppiri osenchi kidottemo
Onaka sukushi machi e deyou



Akai hanasaki MAFURAA ni uzume
Machiawase ni isoge



Aitai! Aitai!
Watashi no Precious!


Seinaru yoru ni HAPINESU o


Kazoku to? Koibito?
Minna wa dou sugosu Happy Holidays


(Jitsu wa watashi)


KEEKI tabehoudai ……tomodachi to

Kotatsu de AISU DORESU APPU joshikai
Everyday saikou




Koi o surubekida nante
Kimeta no dare? Watashi dame?



Love Song tometara
Party Song nagashite
Fuyu o asobi tsukusou



Shiritai! Shiritai!
Watashi no Precious!


Demo komatta na ima mo daiji


Oshare mo MEIKU mo
Dareka no tame tte jidai janai


(Dakedo itsuka)


Koi o shita nara kawaru kana……

Hirari hirari
Kisetsu ga furu
Yokan no sora
Hitori miage
Warukunai to omotta no



Ashita raishuu
Raigetsu rainen
Minna shiawase desu you ni
Inoru yo



Hikaru gairoju surechigau hito
Subete DORAMACHIKKU



Kirameku sekai ga
Watashi no Precious!
Tenshi no uta to BERU hibiku
Shararara shararara
Issho ni sugosou yo Precious Time


(Sou yo kore wa)


Kamisama kara no PUREZENTO

Community content is available under
CC-BY-SA
unless otherwise noted.