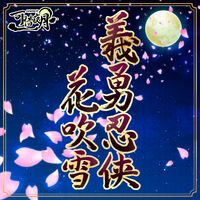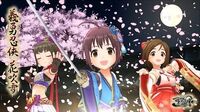 Giyuu Ninkyou Hanafubuki is an original song that first appeared in THE iDOLM@STER Cinderella Girls Starlight Stage. It's M@STER VERSION later released on THE IDOLM@STER CINDERELLA GIRLS STARLIGHT MASTER 36 Giyuu Ninkyou Hanafubuki. It is the image song of the unit Atarayoduki.
Performed by
Edit
M@STER VERSION ( Unit : Atarayoduki )
Karin Domyoji (CV: Hiyori Nitta) 

Ayame Hamaguchi (CV: Masumi Tazawa)

Tamami Wakiyama (CV: Misa Kayama)
Saa seibai itasu yo no futodokimono




Aa michi o shimeshi te o sashinobete




Ninjou ni atsuku issen tsuranuku ishi
Shin henka no jutsu


Kagayau butai e

Iza yukan hanafubuki
Nareba kakugo wa yoi ka
Tenchijin shoubu ari


Watashi o yobu no nara


Doko e demo mairou

Sanjou otasuke shimasyou
Henge jizai waza no syou
Haisui misete agemasyou
Shinobi no iji o



Saa onige kudasai koko wa omakase o
Aa shinken syoubu to ikimasyou ka



Seinaru ki de ja o harai
Unmei no ito wa tomo ni aru
Mayoishi mono ni michibiki o


Kasanaru chikara de

Iza yukan hanaakari
Terasu yoyami ni saki
Tabitachi yagate chiru


Saredo kie wa shinai


Itsumademo utaou

Mou tsugi e no chi e mukau




Tomete kudasaru na




Kono mi wa tada


Mamoru beki hito ga matsu hou e

Iza yukan hanafubuki


Saraba ukiyo ni mai


Tenchijin wa o meguri
Aeta akatsuki ni wa
Sadameda to waraou

Community content is available under
CC-BY-SA
unless otherwise noted.