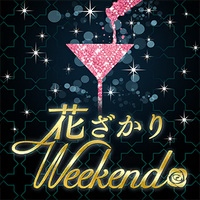 Hanazakari Weekend✿ is an original song first appeared in THE iDOLM@STER Million Live!: Theater Days. The full version appears on THE IDOLM@STER MILLION THE@TER GENERATION 09 4Luxury. It is the image song of the unit 4Luxury.
Performed by
Edit
765 MILLIONSTARS ( Unit: 4Luxury )
Fuka Toyokawa (CV: Rie Suegara)

Kaori Sakuramori (CV: Arisa Kouri)

Konomi Baba (CV: Minami Takahashi)

Reika Kitakami (CV: Emi Hirayama)
Katamichi ichijikan densha ni yurare
DINAA wa KONBINI no MENYUU seiha




Souchou no kaigi wa shindemo chikoku dekinai




Doryoku no kai atte KYARIA wa junchou
Miwataseba fueteku shinnyuu shain




Senpai no kogoto o kikinagashite
Futsuu no naka no futsuu no watashi ganbare!



Shuugyou no BERU (jiriri)
Mekurumeku henshin
MOBU KYARA kara shujinkou
Kirameku sekai e mairimashou
Hana wa sakaru Weekend~
Jibun e no gohoubi Fantastic night


Hademe no MEIKU kimete mahou no kousui fuwari


Tsuki kumanaki Weekend~
Wagamama ni saku no Fantastic girl


TORENDO o mi ni matoi Wake up


Tsurezure naru mama ni Bloom!!!!

Migite de shigoto shite

 

hidarite SUMAHO




Kiyou na kouhai o matomete doon!




Nante mousou sae chikagoro wa taikutsu




Shosen hito wa hito de

 

watashi wa watashi




Kakikake no kikakusho katazukeyou




Machi ni machi ni matta kinyoubi




Konya zangyou? Sore dake wa kanben!


OFISU o detara (kirari)
Machijuu ga SUTEEJI
BIIZU no you na hikari
Donataka watashi to odorimashou
Hanachiri yuku Weekend~​✿
ROMANSU ni yureru Fantastic night


Tsuyome ni kami o maite amai WANPIISU hirari


Tsuki katabuku Weekend~​✿
Shisen wa kugizuke Fantastic boy


Oshare na HIIRU haite Stand up


Asahi ga noboru made Bloom!!!!

[

Fuka

/

Reika

]Tsuyoi ne, to iwareru tabi ni
[

Kaori

/

Konomi

] Kawaii, ga hoshiku naru no yo
[

Kaori

/

Konomi

]Inochi mijikashi [

Fuka

/

Reika

] ichidokiri
Rashikunakucha ne

Hana wa sakaru Weekend~




Kagami yo kagami yo…Fantastic night




Ato sukoshi mou sukoshi kono mama yume o misete




- It's like a magic!! (Yeah!!)


Tsuki kuma naki Weekend~
Wagamama ni saku no Fantastic girl
TORENDO o mi ni matoi Wake up
Tsurezure naru mama ni Bloom!!!!

Community content is available under
CC-BY-SA
unless otherwise noted.