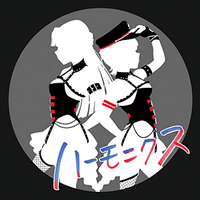 Harmonics is an original song that first appeared in THE iDOLM@STER Million Live!: Theater Days. It is a image song of the unit D/Zeal.
Performed by
Edit
765 MILLIONSTARS ( Unit : D/Zeal )
Shizuka Mogami (CV: Azusa Tadokoro)

Julia (CV: Aimi Terakawa)
new song.. new resonate..
new song.. new resonate..




Anata no koe o kiku tabi atashi no fukaku ga furueru kara




Hikareatte

 

hajikiatte

 

tsuyoku natta shindou ga kuuki o tsutatte






Moshimo kono koe o

 

kasaneawasetara

 

atarashii

 nanika ga (you and me)


Futari aruite kita sono saki ni 

anata to dakara

 

egakeru

 sekai ga aru
Mada shiranai yorokobi o souzou shite shinjite kyoumei suru no
Atarashii oto ga kikoeru hazu


new song.. new resonate.. kikoeru desho?




Tsuyo sugiru omoi wa toki ni daiji na mono ni mekakushi o shite shimau kara




Mienakutte

 

surechigatte

 

kowaku natta douka gyuutto kono te o nigitte






Kurayami no naka ni

 

hito suji no hikari

 

atarashii

 keshiki ga


Futari kasaneta te no sono naka ni 

anata to dakara

 

teraseru

 sekai ga aru
Mada kienai kanashimi mo me o korashite kanjite kyoumei suru no
Atarashii iro ni someageru yo




Osorenai de kono mama

 

atashi rashiku areba ii

 (I believe you)
Anata ni senaka o azukete utau yo motto sekaijuu ni narihibiite


(Future changes by my song, your song)




Tatoe sono hibiki ga mikansei demo

 

anata to naraba

 

utsukushii

 sekai ni naru
Sorezore no PURAIDO o tataeatte shinjite kyoumei sureba
Atarashii uta ga umareru kara


new song.. new resonate..

Community content is available under
CC-BY-SA
unless otherwise noted.