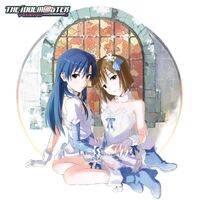 Hatsukoi ~Goshou Eien no Christmas~ is an original song that first appeared on THE IDOLM@STER ANIM@TION MASTER Namassuka SPECIAL 05. It is the fifth chapter of the Hatsukoi series featured in Namassuka SPECIAL CD series.
Performed By
Edit
765 Productions
Chihaya Kisaragi (CV: Asami Imai)

Yukiho Hagiwara (CV: Azumi Asakura)
Makkurai hitoribeya




Mado kara sasu hikari




KAATEN akate mitara




Mabushii gin sekai



Nigiwau hito-tachi kara




Koborete yuku egao




Kinou no ame ga uso no you ni




Kagayaku sora harewataru mune



Kimi ni ima 

ai ni ikanakucha


Kanashimu tame ni 

koi shitan janai


Watashi ima 

chanto tsutaeyou




Kokoro no mama ari no mama

 kimi ni todoke

Sakura ga mau koro ni meguriatte
Hanabi ga mau toki ni te o tsunaide
kogarashi ga mau hi ni dakishimete kurata
Shiawase sakihokotteku yo... 

kimi ni...



Doko ni yukeba aeru no




Nanimo shiranai keredo




Kidzukeba itsumo no hora




Machiawase basho kiteta



Omoide no wakaremichi




Dono kurai matta darou...




Hon no chotto utsumuita toki




Tooku kasukani watashi o yobu koe



Isshun de 

kimi da to wakatta


Sono shunkan ni 

hashitte yuku watashi


Massugu ni 

sono mune ni made to




Todoita toki fureta toki

 nakidashiteta...

Doushitan darou 

ureshii hazu nano ni


Komarasechatte 

gomen ne demo kiite


Mou ya da yo... hanasanai de ne


Watashi no soba ni ite zutto



"Kyou wa nanika shitteru yo ne?
Boku kara no PUREZENTO
Kinou wa kore o tori ni itte
Naisho ni shite gomen
dake do MERII KURISUMASU"

Arigatou... hontou ni arigatou...




Watashi wa kimi ga suki... itsumadedemo...


Kimi no PUREZENTO hodo itara
Yorisotta hitokumi no INISHARU iri no SHIRUBAA RINGU

Sakura ga mau koro ni meguriatte
Hanabira ga mau toki ni te o tsunaide
Kogarashi ga mau hi ni dakishimete kureta
Yuki ga mau kisetsu ni KISU o... kimi to...

Community content is available under
CC-BY-SA
unless otherwise noted.