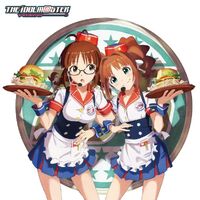 Hatsukoi ~Sanshou Shiawase no Kouyou~ is an original song that first appeared on THE IDOLM@STER ANIM@TION MASTER Namassuka SPECIAL 02. It is the second chapter of the Hatsukoi series featured in Namassuka SPECIAL CD series.
Performed by
Edit
765 Productions
Ritsuko Akizuki (CV: Naomi Wakabayashi)

Yayoi Takatsuki (CV: Mayako Nigo)
Watashi koi shiteru kimi to te tsunagi nagara
Aruite yuku kyou o

Natsu yasumi owaru koro yakusoku shita




Kimi to hajimete no yubikiri



"KARENDAA no hitsuke ga akai hi ni wa




Futari de dokoka e dekakeyou" tte



Gakkou de aetemo




Jyugyou dake ja tsumaranai




Tokubetsuna watashi o

 motto oshietai

Kyou wa nichiyou matteku kouyou


Mainichi kimi ni aeru

 

hoo ga akaku somaru


Machiawase basho omoide no wakare michi


Ima watashi wa shiawase



Atarashii fuku o kite




Mukau watashi nandatte




Hajime wa kimi ni misetai



"Niau yo" to iwarete




Chotto hazukashiku natte




Te wo sashi dashita kimi

 GYUTto nigitta

Kyuu ni fuku tsumetai kogarashi




Watashi no karada o furuwaseta toki



Kimi wa watashi o dakishimete kureta


Ikinari datta kedo

 

yasashii te attakakute


Suki to iu omoi karada chuu ni hibiiteku


Hanasanaide ima

 

watashi kimi to

 shiawase

Community content is available under
CC-BY-SA
unless otherwise noted.