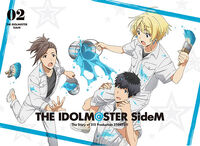 Itsuka Kono Shunkan ni Namae o Tsukeru Nara is an original song appearing on the Special CD: 315 St@rry Collaboration 02 ~High×Joker&W~.
Performed by
Edit
315 STARS
Shiki Iseya (CV: Shou Nogami)

Haruna Wakazato (CV: Yuusuke Shirai)

Hayato Akiyama (CV: Shouya Chiba)

Jun Fuyumi (CV: Takuma Nagatsuka)

Natsuki Sakaki (CV: Hiroshi Watanabe)

Kyosuke Aoi (CV: Yoshitaka Yamaya)

Yusuke Aoi (CV: Takeru Kikuchi)
Isshunda nante ne dareka ga ittatte
Kono shunkan, bokura wa koko ni irunda


Aoi hibi ni katamuketa jounetsu wa
Kiete shimau wake janai yo na
"Wakatterusa"
Ou hodo ni gamushara ni natte iku
Kakegaenai jikan nanda ne




Nandodatte

 tsumazuitatte ii


Kokoro de

 kanjiterunda yo
Ippun ichibyou…tokubetsu datte iu koto o


Sou, itsuka kono shunkan ni
Namae o tsukeru nara…nante yobu? toka
Mada, sonna koto shiranai de ii
Sono mattadanaka, hashitte irunda…ima


Megutte iku kisetsu o issho ni
Sugosu dake ja nakama janai
"Wakatterusa"


Itami sae

 

wakeaeru kara


Yorokobiaeru kizuna nanda ne




Kotoba de

 tsutaeatteru


Koto tte

 zenbu janai yo ne
Demo naite, warau TAIMINGU onaji de


Nee, doushite GARASU mitai ni
Koware yasuida nante iwarerun daro
Mada, sonna koto shiranai de ii
Toumei na omoi, dakishimete irunda…ima
Owarasenai yo, zenryoku shissou o


Dekinai tte kimetecha
PIRIODO ni naru tte


Jishin nante

 kashin na kurai de ikou yo
Takai HAADORU o tobou to suru kara
Nandodemo hashitte ikunda…itsudatte


Tabun kitto, hitori ja konnani
Tsuyoi kimochi ni nante narenakatta yo


Sou, itsuka kono shunkan ni
Namae o tsukeru nara, nante omowanai
Ashita mo tsuzukutte shitteru
Jikan no naka ni bokura wa irunda…ima
Kagayakaseyou, zutto

Community content is available under
CC-BY-SA
unless otherwise noted.