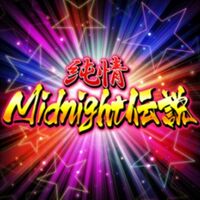 Junjou Midnight Densetsu is an original song that first appeared in THE iDOLM@STER Cinderella Girls Starlight Stage. It's M@STER VERSION later released on THE IDOLM@STER CINDERELLA GIRLS STARLIGHT MASTER 05 Junjou Midnight Densetsu. It is the image song of the unit Enjin.
Performed by
Edit
M@STER VERSION ( Unit : Enjin )
Takumi Mukai (CV: Yuuko Hara)

Rina Fujimoto (CV: Mayumi Kaneko)

Ryo Matsunaga (CV: Haruka Chigusa)

Aki Yamato (CV: Tomo Muranaka)

Natsuki Kimura (CV: Kiyono Yasuno)
Hanpa na kimochi wa iranee

 

donna toki demo gachi ga shinjousa




Bucchigirigiri Yeah!

 

Otoshimae tte yatsu




C'mon! C'mon! Alright

 kicchiri tsukeru ze

Yami o terasu TEERU RANPU tsuranari yureru kaigansen




Gara ni mo nai ne shio no kaori ni setsunasa ga fui ni yogiru



Kakugo nante tokkuni kimatten daro? Tsuiteki na




Onna wa dokyou! Bukiyou nari ni jun na kimochi o misete yaru kara



Kirameku hoshikuzu no umi ukabu Lonely heart, Only night kattobashite
Togisumaseta kono omoi

 tokihanatsu no sa Are you OK?

Midnight kiai joutou! Yume ni tokkou Let's Go! Kimeru ze
Saa genkai nante oikoshite kaze o kitta sonosaki de mirai o miyou ze

Honki seigi jingi wa damatte tsuranuku ga hanasa




Rashiku mo nai to warawaretatte kore ga jibun no ikizama



Samui yoru ni ibasho o sagasu koneko ga irun nara




Munamoto irete attamete yaru shinpaimuyou! Makasete oki na



Norukasoruka no daibakuchi motto Dreaming on, Shining on ippo datte
Hikanai PURAIDO de ima

 kagayaki tsukami toru no sa

Midnight atsui kizuna de miseru konjou jinjou janai ze
Mou genkai nante furikitte mabataki mo sezu ni iza nagurikomu no sa

Samishigari no tenshi-tachi ga

 

kyou mo mata




Kiwadoi RAIN semenuku

 inochi no honou moyashite...

Baby soushisouai mabui kanjou junjou namen na




Mou zenkai baribari sasageba

 

HAATO wa matsurisa tanoshimou ze



Midnight kiai joutou! Yume ni tokkou Let's Go! Kimeru ze
Saa genkai nante oikoshite kaze o notte sonosaki no mirai e ikou ze

Oi Oi Oi sousa koyoi wa Ai Ai Ai ai no tsudoisa
Boom Boom Boom mune no ENJIN ima unari o agete densetsu ni naru

Community content is available under
CC-BY-SA
unless otherwise noted.