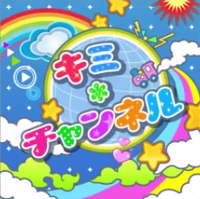 Kimi*Channel is an original song that first appeared in THE iDOLM@STER ONE FOR ALL as a DLC song. The M@STER VERSION of the song later released on THE IDOLM@STER MASTER ARTIST 3 01-03 as solos by Haruka, Hibiki, and Makoto.
Performed by
Edit
M@STER VERSION
Haruka Amami (CV: Eriko Nakamura)

Hibiki Ganaha (CV: Manami Numakura)

Makoto Kikuchi (CV: Hiromi Hirata)
Dokidoki douki fuwafuwa fuan


Kimi kara DAUNROODO


Kokoro no naka okasareteku


Kore tte koi nan desho



Me to me ga butsukatte awatete sora shichatte




Sore dake de kodou wa tokimeki BAIBUREESHON



Koi no ANTENA nobashite




Kimi no shuuhasuu hirotte




JAKKU shichae



Hajikeru kimochi tsumete
Denpa ni nose hassha OORAI
Itsuka wa kitto todoke
Otomegokoro soushin!

Te to te ga fureaeba hora mata OOBAAHIITO




Onnanoko wa fukuzatsu toriatsukai chuui



Koi no CHANNERU mawashite




Atashi ni nee awasete




Onegai yo



Kimochi konsen shitatte
Kimi no SHIGUNARU KYATCHI shitai
CHOKOREITO yori amai
Koigokoro o soushin!

Melty*melty


Torokete yuku my heart



Dokidoki douki fuwafuwa fuan


Kizukeba APPUDEETO


Sorosoro hora genkai toppa


Bakuhatsu shichaisou



Totsuzen futarikiri no SHICHUEESHON




Kamisama no SAPURAIZU wa yosoku funou



Koi no ANTENA SUTANBAI




Kimi no SAIN nogasanai




Kakugo shite



Himitsu no VEERU matotta
Kimi no kokoro AKUSESU shitai
Ima koso omoi todoke
Koi no denpa soushin!

Yuuki no hana gyutto daite
Kimi no kokoro kaijo shitai
PASUWAADO wa "daisuki"
Koi no denpa soujushin!

Honey*honey




Kimi wa itsudatte




Lovely*lovely


Muteki no only one

Community content is available under
CC-BY-SA
unless otherwise noted.