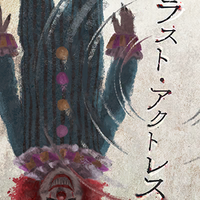 Last Actress is an original song that first appeared in THE iDOLM@STER Million Live!: Theater Days. The full version appears on THE IDOLM@STER MILLION THE@TER BOOST 03.
Performed by
Edit
Kotoha Tanaka (CV: Risa Taneda)

Momoko Suou (CV: Keiko Watanabe)

Konomi Baba (CV: Minami Takahashi)

Mizuki Makabe (CV: Rika Abe)

Tsumugi Shiraishi (CV: Saki Minami)
Hora ne SHOU ga ima hajimaru
Mimamotte ite kudasai
Nanto shite mo enjiru wa


Kono yaku no

 saigo made

Ringo no you ni akai ogawa wa aru hi yuka ni shitatatte shimau




Doukou wa yami o utsusu mirai o ushinatta mama




(Dare ga nanno tame ni?)




Yaru ka yarareru ka kamihitoe GEEMU




(Ittai nanno tame ni?)




Kono butai jou de ikiteku



Kawaita SUPOTTORAITO




(Kiba o muiteru)




Hie kitta kyouki no koe ga


(Ufufufufufu…)

Datte inochi kaketa hou ga
Utsukushiku irareru
Motte ikeru toiu no nara
Ii wa ubatte goran


Inochi tsukiru shunkan no kagayaki o yakitsukete




Watashi wa miteru wa


Shoumei ochiru saigo made

Kawaisou da wa higeki wa totsuzen hajimatta wake janai




Odorasareteita dake ne




(Menmitsu na SHINARIO de)




Taikutsu yori mo SURIRINGU na hou ga
Sei o kanjirareru




(Namanamashii hodo)



Nerai wa tsukerareteta




(Saisho kara kitto)




Itsu sono TORIGAA o hiku ka


(Ufufufufufu…)

Hana no inochi wa mijikai no
Tsunde shimawanai de
Moshimo karete shimau to shitara
Dare ni ai o tsutaeru?


EPIROOGU no PEEJI made tadoritsukeru no kashira




Watashi wa enjiru wa


Honoo kieru saigo made

Kono SHOU mo sorosoro KURAIMAKKUSU


Ittai dare ga shikaketa no deshou


Inochi no ENTAATEIMENTO

Yoku koko made tadoritsuita wa
Chotto homete ageru
Otto koko kara saki wa mou
Futari dake no himitsu yo
Deguchi no nai butai e
Youkoso irasshaimashita
Saikou no omotenashi
Saigo ni shite agemashou

Community content is available under
CC-BY-SA
unless otherwise noted.