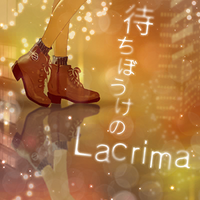 Machibouke no Lacrima is an original song that first appeared on THE IDOLM@STER LIVE THE@TER FORWARD 02 BlueMoon Harmony. It is performed by the unit "Aquarius".
Performed by
Edit
765 MILLIONSTARS ( Unit : Aquarius )
Reika Kitakami (CV: Emi Hirayama)

Julia (CV: Aimi Terakawa)

Sayoko Takayama (CV: Yuri Komagata)
Okiniiri no KOOTO wa attakai no ni
Kajikanda mama yubi wa POKETTO no naka




Fui ni todoita dareka no hashagi goe
Mune no sasakure ga hipparare itanda




Kikitai BERU wa SAIRENSU moji no raretsu mo ippoutsuukou




Ichiban kirei na basho de

 

aitai yo ne tte waratta no wa...
Uso datta no?



Mabataku to ochiteku no
Toumei de, suutto kiesou na kakera-tachi
IRUMINEESHON nijimasenai de yotte


Ijiwaru ne kiite kurenai no


Wagamama na Lacrima

Kimi no techou mekuru sonna shigusa o
Kossori to me no hashi de otteta no wa




Sono PEEJI no dokoka ichigyou de ii
Kawashita yakusoku arimasu you ni




Shinjitenai wake janai yo demo ii kirezu fuan nano wa




Itsumo daijoubu gawari ni

 

kami kushari nadete kureru no wa...
Kimi dakara



Samuzora o oritekuru
Kono machi no hatsuyuki tokasu shizuku-tachi
Machiawase shiteta mitai ni ne


Hanayaideku kuuki ga kurushii yo


Nee doko ni iru no

Koboreta MIRUKU-iro no mukou ni maboroshi mita ki ga shita




Sekai no chuushin ga soko ni aru you na KONTORASUTO




Yoru ga...hajimaru



Hyoutenka o torokashite




Mimitabu ni yuruku kakaru haneta toiki




Iitakatta kotoba nante nanimo




Detekonai

 

yuruseru yo

 me ga atta dake de...

Mabataku to ochiteku no
Toumei de, suutto kiesou na kakera-tachi
Kimi ga kureta MAFURAA ni nita ondo de


Mata sekai boyakete iku yo


Wagamama da ne Lacrima

Community content is available under
CC-BY-SA
unless otherwise noted.