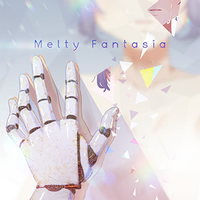 Melty Fantasia is an original song first appeared in THE iDOLM@STER Million Live!: Theater Days. The full version appears on THE IDOLM@STER MILLION THE@TER GENERATION 08 EScape. It is the image song of the unit EScape.
Performed by
Edit
765 MILLIONSTARS ( Unit: EScape )
Mizuki Makabe (CV: Rika Abe)

Shiho Kitazawa (CV: Sora Amamiya)

Tsumugi Shiraishi (CV: Saki Minami)
Yawarakaku setsuna o somete

Fureyou to suru to kiechaisou
Okubyou de hakanai hikari




Chikuri to mune o sasu itami o kakusu tame
Se o muketa



Hontou wa itsumo sagashitetanda
Inryoku ni hikiyoserareru you ni




Kogoesou na kagayaki mo




Dakishimereba hibiku kara



Ikusen no hoshi no naka kara maiorita awai kirameki
Yasashisa ni tsutsumareta nara
Eien sae mo tobikoeru no
Haruka kanata e todokete
Shizuka ni toketeku katakuna na kokoro o

Hohoemu koto sae chuucho shite
MONOKURO ni umoreta PATOSU




Sensaide kowagari na dake no shoujo nano
Kizuite yo



Nanigenai koto ga tada ureshikute
Atatakaku naru kimochi wa Delight




Kono omoi anata ni mo


Tsutaetakute sore dake de

Ikusen no yoru o tabi shite furisosogu hikari wa kiseki
Tayorinaku mieta to shite mo
Soko ni tashika na imi ga aru no
Tsuyoku egaita inori wa
Kuon ni hatenaku iroase wa shinai yo

Kono hitomi ni wa nani ga utsutteru?




Sore wa genjitsu? Soretomo gensou?




Sunao ni narenakute namida de nijimu


Taisetsu na kotae wa
Shitteru no ni ienai...

Yawarakaku setsuna o somete
Kanaderu yo, chiisana honne o




Wasurenai wasuretakunai

 

kono kimochi wa


Uso janai
Ikusen no hoshi no naka kara maiorita awai kirameki
Koe ni naranai negai demo zutto
Shinjitete hoshii no kokoro kara afureta
Melty Fantasia

Community content is available under
CC-BY-SA
unless otherwise noted.