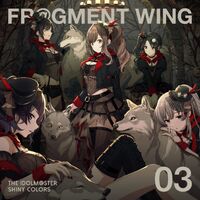 NEO THEORY FANTASY is an original song that first appeared on THE IDOLM@STER SHINY COLORS FR@GMENT WING 03. It is one of the image songs of the unit L'Antica.
Performed by
Edit
283 PRO ( Unit : L'Antica )
Kogane Tsukioka (CV: Carin Isobe)

Mamimi Tanaka (CV: Chisa Suganuma)

Sakuya Shirase (CV: Anna Yamaki)

Yuika Mitsumine (CV: Runa Narumi)

Kiriko Yukoku (CV: Mizuki Yuina)
Kaze o kiretara muteki na ki ga shita kara

 (Starting)


Fumidaseta yo ippo o koete mata ippo




Yuuki to KEEKI buriki no BASUKETTO o

 (Carry On)


Yurashi nagara mayoikonda kiri no naka



Aa, amai kotoba
Hisonde iru
Kiba o kakusu dareka ga kamen o kamutte




Ayamachi no hou e michibiita…
Kizukanai de

 (susunde yuku)


Damasarete mo

 (hikarete yuku) kimeta tobira e

Hoshi no seseragi o tobikoe
NEO THEORY FANTASY


Yomigaeru furuki uta michishirube ni


Kimi ga daisuki na murasaki no chou o mitsuke ni ikou
Unazuku hitomi to yakusoku shite――
Susumu yo

Ussou to hirogaru haikyo wa marude Lost Forest

 (Wandering)


Jikiarashi ni nita fuan ga oshiyosete




Yowaki doushi ga surechigau kara Pain and Pain

 (Scramble)


Karete kuchita ki yori fukaku unadareta



Aa, yowatta kokoro toritsukuroi
Yume o miseru yuusha no kamen o kamutte




Soredemo tomarazu mezashiteta…
Riyuu wa minna

 (kesanakatta)


Shinjiru kara

 (kibou atta)
Tadoritsukeru to…!

Soshite unmei wa korogaru
FALL A PRAY TO BLACK HOLE


Tachi fusagu zankoku ga kuchi o aketa


Kitto daijoubu HAATO ni onaji senritsu areba
Kowakunai yo
Zetsubou no naka ni――
Nomareyou

Aa, yami no soko ni tojikomerare




Yatto bokura deaeta




Hikari ni fureta yo




"Mou juubunda yo ne"




"Hontou ni?"


Dekiru hazusa (chousen shinakya)
SUTOORIITERAA (kakusei shite)
Mirai o kaero!

Ima tsukiyabureba sekai wa
NEO THEORY FANTASY
Sukui yori boku-rarashii shin no ENDO
Yoteichouwa wa nai
Atta no wa soroi no kimochi dake
Miwataseba, murasaki no chou ga
Matteta

Community content is available under
CC-BY-SA
unless otherwise noted.