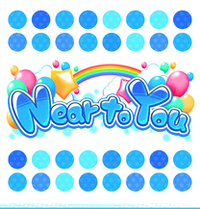 Near to You is an original song that first appeared on the third set of THE IDOLM@STER CINDERELLA MASTER jewelries! series.
Performed by
Edit
Cute Jewelries! 003 Version ( Unit: la Roseraie )
Frederica Miyamoto (CV: Asami Takano)

Shiki Ichinose (CV: Kotomi Aihara)

Momoka Sakurai (CV: Haruka Terui)

Yuka Nakano (CV: Shino Shimoji)

Kyoko Igarashi (CV: Atsumi Tanezaki)
Cool Jewelries! 002 Version ( Unit: CAERULA )
Fumika Sagisawa (CV: M A O)

Kanade Hayami ( CV: Yuuko Iida)

Arisu Tachibana (CV: Amina Satou)

Syuko Shiomi (CV: Ru Thing)

Asuka Ninomiya (CV: Shiki Aoki)
Passion Jewelries! 003 Version ( Unit : Sunflower )
Yuki Himekawa (CV: Mako Morino)

Nina Ichihara (CV: Misaki Kuno)

Sanae Katagiri (CV: Azumi Waki)

Yui Ohtsuki (CV: Nanami Yamashita)

Yumi Aiba (CV: Juri Kimura)
Community content is available under
CC-BY-SA
unless otherwise noted.