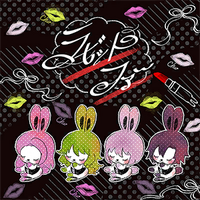 Rabbit Fur is an original song that first appeared in THE iDOLM@STER Million Live!: Theater Days the full version later appeared on THE IDOLM@STER MILLION THE@TER WAVE 03 Xs.
Performed by
Edit
765 MILLIONSTARS ( Unit: Xs )
Yukiho Hagiwara (CV: Azumi Asakura)

Miki Hoshii (CV: Akiko Hasegawa)

Makoto Kikuchi (CV: Hiromi Hirata)

Iori Minase (CV: Rie Kugimiya)
Sekkin CHANSU miwaku no MIDDONAITO
Youishuutou amai wana




Machi de mikaketa akogare RUUMUWEA
Senobi suru kurai de choudo ii






Anata no dokidoki ga kikoeru
Mahou no omimi ga ima hoshii




Te o nigitte dakiyosete KISU shite
Sono saki mo issho ni mi ni itte miyou yo




Konya no watashi wa anata no fuwafuwa RABITTO FAA


Sono me de

 

sono te de

 zenbu ajiwatte ne
Mada shiranai watashi shitte hoshii na
Kasaneatte tsugeru watashi no


Koe ni dasanai I love you






Ato zuu SENCHI tokimeki BEDDOTAIMU
Kono kyorikan ga choudo ii




"Sukoshi semai ne" SHIITSU no sukima de
Shizuka ni hajimaru daisakusen






Anata ni daisuki ga tsutawaru
Kawaii shippo ga atta nano




Yubi karamete kami nadete me o mite
Shitai koto chanto itte mite hoshii yo




Kore kara mazatte torokeru futari no loving heart


Tondari

 

hanetari


[

Yukiho

/

Miki

] Chotto sawagashii kara
Motto tokubetsu na watashi de itai kara
Omoikitte tobikomu watashi


Chanto tsukamaete yo ne






Sabishigariya na watashi no tame ni hora




Choppiri yuuki o dashite hoshii no saa




Konya no anata to watashi wa fuwafuwa RABITTO FAA


Sawatte

 

kanjite

 [

Yukiho

/

Makoto

]shiawase no ondo
Mada shiranai futari no sekai e jumping!
Amakami de tsugeru watashi no
Koe ni naranai I love you




Kono mama motto I love you



Community content is available under
CC-BY-SA
unless otherwise noted.