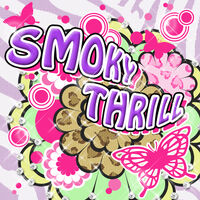 SMOKY THRILL is an original song that first appeared in the game THE iDOLM@STER 2. It made it's debut at the Tokyo Game Show 2010 and is the second image song of the unit Ryuuguu Komachi. The M@STER VERSION of the song later released on THE IDOLM@STER 2 "SMOKY THRILL".
Ryuuguu Komachi
Iori Minase (CV: Rie Kugimiya)

Ami Futami (CV: Asami Shimoda)

Azusa Miura (CV: Chiaki Takahashi)
Shiranu ga hotoke hottokenai


Kuchibiru POOKAA FEISU


Yo toudai 

moto kurashi Do you know!?


Uwasa no Funky girl

Shinobikomareta atashi no kokoro

 [

Ami

/

Azusa

]yaburekabure no yoru


Tokihanatsu wana yudan wa taiteki



Sasurau petenshi no aoi toiki

 (Ah...)


Tegakari ni I wanna

 [

Ami

/

Azusa

]koi dorobo [all]Oh!


Itomeru nara kakugo ni yoidore



Onna wa tenka no mawarimono


Shibireru kubire


Iwanu ga 

hana to nari chiriru


Himetaru karada

Sasou RIZUMU to atashi no kagerou

 [

Ami

/

Iori

]kokoro midareru Tonight


Sonna MAACHINGU makka na KAATEN KOORU e Go!



Iwayuru ai no FURU KOOSU naraba




Tsuki akari ni ukabete

 [

Iori

/

Azusa

]irozuku (Woo)


Harenchi na yume DEZAATO ni tadayou



Isogaba maware My word let go


Odoru hada saku


Takara no 

mochigusare saredo


Asebamu sakyuu

Minarenai kanjou yureru shinkirou




Koete yuku umi wataru

 kaze WAIPU


Sake o amaku shinaide hoshii, to


Hanpanai roku demo nai EGOISUTO
Itomeru nara ANTIIKU ni nure

Onna wa abireba fuuraibou


Moteamasu namida


Uwasa o 

sureba kage ga sasu


Hoshizora no UINKU

[

Iori

/

Azusa

]Daremo shiranai shinkai no BOODAARAIN
[

Iori

/

Ami

]Miwaku no Lover chase hajiku

[

Ami

/

Azusa

]Amaku mitaraba massakasama Fly away
Karamaru SURIRU CHAAJI


Yofukashi no neko madowasu



Sayonara


Ototoi oide


Oh, saraba


Awayokuba mata (Au!)

Shiranu ga hotoke hottokenai
Kuchibiru POOKAA FEISU
Yo toudai moto kurashi Do you know!?
Girigiri de oazuke Funky girl

Community content is available under
CC-BY-SA
unless otherwise noted.