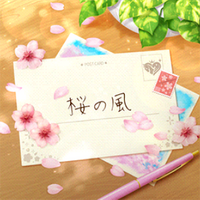 Sakura no Kaze is an original song appearing on THE IDOLM@STER CINDERELLA GIRLS MASTER SEASONS SPRING! as a all-type spring themed song. This song is the fourth and final part of the "Kaze" storyline written by Yuriko Mori. The follow-up songs in the "Kaze" series are Gin no Iruka to Atsui Kaze, Akikaze ni Te o Futte, and Twintail no Kaze.
Performed By
Edit
Anastasia (CV: Sumire Uesaka)

Kyoko Igarashi (CV: Atsumi Tanezaki)

Yoshino Yorita (CV: Yuuki Takada)
Kaze wa nagare kami o kitta watashi wa
Tsuukindensha kara tooi hi o mitsumeteru




Keitai no shashin o nagame omoide tojitara




Mukou no HOOMU ni niteru hito ga utsumuku



Ugokidashita tokei no you ni




Kawaru unmei isoganakucha




Bukiyou datta watashi no ue


Sakura no kaze ga fuku

Me to me atte hashitta
Negai o kanaetai


Sono tame ni dare mo ga
Otona ni ne kitto naru kara



Kyou mo shiteru omamori wa
Ano hi kureta NEKKURESU


Giniro no iruka ga




waratteru 
Futari no egao mitsumete



Kokoro kara no waraigao wa




Suki na hito no soba de saku ne




Haru mo natsu mo aki mo fuyu mo


Kaze no naka de
Kitto saku wa

Ureshi sugite fuan ni yureta keredo
NEKUTAI shite tatte hitomi wa kawaranakute




Nandomo kuyandeta kisetsu sotto kaeru you ni




Anata potsuri aitakatta to tereru no



Ding Dong Ding Dong CHAIMU natte
Onaji PEEJI nozoita yo ne

Atsui kaze to AKUARIUMU
Namae yonda hikari no natsu

Aki no kaze ni namida shita hi

Sore wa hikari to kage toomawari shita seishun

Te to te tsunagu shizen ni




Anata no tonari shika




Watashi no ibasho wa nai yo ne?



Te to te tsunagi arukou
Togirete ita jikan
Tsunagi naosu you ni
Yubisaki o karameta mama de zutto

Haruka ano sora ni ukabu omoide-tachi


Sekigae shita ano hi




Suki datte iwareta ano hi




Naita hi



Iruka-tachi wa shitteta yo ne
Watashi-tachi no koi no yukue
Haru mo natsu mo aki mo fuyu mo


Kaze no naka de




Ai no naka de




Zutto zutto


Soba ni iyou

Sakura no shita
Arukidasou

Community content is available under
CC-BY-SA
unless otherwise noted.