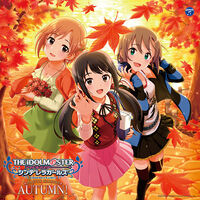 Sayonara Andromeda is an original song appearing on THE IDOLM@STER CINDERELLA GIRLS MASTER SEASONS AUTUMN! as a cool-type autumn themed song.
Performed By
Edit
Rin Shibuya (CV: Ayaka Fukuhara)

Nono Morikubo (CV: Karin Takahashi)

Aki Yamato (CV: Tomo Muranaka)
Itsudatte sou boku wa hitori datta
Taiyou sae me o sorashita




Warawanai mama toki wa sugiteitta 
Nandome kano natsu mo sugita



Kanawanai yakusoku ga ame ni natte
Aki o sotto tsuretekita sono yoru
Me o samashitara kimi wa tonari ni ite
Warawanai boku o waratteta



Nee 

konbanwa


Nee 

doushitandai


Nee 

doushite
Doushite zutto naite iru no



Bokura konya konya sou tabidatou
Zutto zutto tooku e
Hoshi no umi no mukou ANDOROMEDA
Seiza-tachi no DANSU mo chikyuu no matataki mo
Kimi ni 

misete ageru



Soshite itsuka itsuka to
Bokura wa zutto zutto tooku no ginga miteta
Futari
ANDOROMEDA
Kimi wa donna
Donna kurai yoru demo
Mou waraenai boku ni mo 


waratte kureta
Waratte kureta



Nanairo no hoshikuzu no nami ni notte
Bokura wa uchuu o kakenuketa
Bukiyou na chizu o futari egaita
Tonari no ginga o yumemite



Negai ga katachi ni natte kanau bashoda to
Mukashi hon de yonda yo
Hoshi no ame mo arashi mo kowakunai yo
Kimi to ikeru nara



Nee mou sukoshisa
Nee ato sukoshida
Nee doushite
Doushite kimi wa naite iru no



Soshite konya
Konya sou fureru yo
Yatto yatto aeta
Te o nobasu yo
Bokura no ANDOROMEDA
Konya moshimo
Moshimo ne
Negai ga kanau nara
Kimi ni 

waraeru kana
Waraeru kana



Nee nee
Nee 

doushite
Doushite kimi wa kimi nanda



Soshite konya konya sou owakare
Kitto mou aenai kedo
Zutto zuttosa kimi o omotte iru yo
Nakiharashita kao mo koe mo
Nee itsudemo kimi wa 

suteki datta yo



Bokura wa kitto kitto sou hitori de
Boku no ashi de kaeru yo
Kyou de sayonara
Sayonara ANDOROMEDA

Soshite natsu no owari
Ame ga shizuka ni furu yoru wa


Kimi no koto o omoidasu kara




Sora miagete hohoemu kara



Community content is available under
CC-BY-SA
unless otherwise noted.