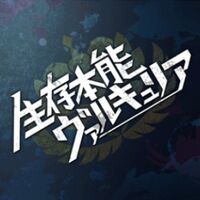 Seizon Honnou Valkyria is an original song that first appeared in THE iDOLM@STER Cinderella Girls Starlight Stage. It's M@STER VERSION later released on THE IDOLM@STER CINDERELLA GIRLS STARLIGHT MASTER 04 Seizon Honnou Valkyria. It is the image song of the unit Einherjar.
Performed by
Edit
M@STER VERSION ( Unit : Einherjar )
Minami Nitta (CV: Aya Suzaki)

Fumika Sagisawa (CV: M A O)

Arisu Tachibana (CV: Amina Satou)

Aiko Takamori (CV: Yuuki Kaneko)

Yumi Aiba (CV: Juri Kimura)
Motto tsuyoku motto yasashiku nareta nara koukai wa heru no kashira




Hoshii mono hoshii to ieba ataerareru ki ga shite ita ano goro



Honnou ga sakebu wa

 

mamorareru bakari no kodomo janai mou watashi




Kawaritai to negau

 mamoritai mono mamoreru tsuyosa o
Teniiretai no kono ryoute de

Ikinokore mune ga harisakesou na yoru mo 

koete

 

itsuka no

 chikai o daite
Tatakau yo kimi ga tachiagari tsuzukeru kagiri wa 

kimi koso ga kibou dakara


Tomo ni ikitai kara

Kizutsuite mata kizutsukete ayamachi o kurikaesu hito wa minna




Naku koto de yurusareyou to katasumi de wa omotte itan darou



Yuganda kanshin o

 

watashi ni mukenai de jama shinai de itai wa




Hima janai no watashi

 anata to chigatte kensetsu-teki yo mirai o mite iru no 
itsudemo

Ikinokore fukaku kizutsuite doushiyou mo nai 

toki ni wa

 

nigete mo ii kara


Tatakatte hoka no daredemo naku jibunjishin no 

yowasa ni makenai tame ni


Tomo ni ikitai kara

Youyaku mitsuketa

 

watashi no sekai de




Hikarisasu

 

SUTEEJI tsutaetai

 omoi o anata e todokeyou

Ikinokore ai wa

 kokoro no KOA ni kizamareteru kioku ga tatoe usuretemo
Tatakaou kono te de tsukamitai mirai ga aru no matteru dake ja irarenai
Tomo ni ikitai kara

Community content is available under
CC-BY-SA
unless otherwise noted.