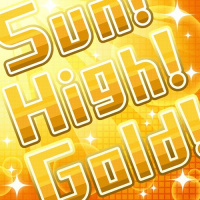 Sun! High! Gold! is an original song that made its in-game debut in THE iDOLM@STER Cinderella Girls: Starlight Stage. It is performed by the top 5 idols for the 8th General Election featured in the THE iDOLM@STER: Cinderella Girls.
Performed by
Edit
Mio Honda (CV: Sayuri Hara)

Karen Hojo (CV: Mai Fuchigami)

Riamu Yumemi (CV: Seena Hoshiki)

Kozue Yusa (CV: Mina Nakazawa)

Yukimi Sajo (CV: Mina Nakazawa)
(Sun! Sun! High! uh~Yeah!)




Taiyou ga yonderu yo!
Kiminchi no CHAIMU narashi


"Issho ni dekakeyou!"
Kiniro no kisetsuda


(Sun! High! Sun! High!)
(Sun! High! Sun! High!)




Kimi ni misetakute zettai misetakute
Omatase! Saitanda himawari ga




Omoide ni juni wanai keredo
Kono shunkan wa yappari kiniro






Okurete saita hana hodo
Genki o tamete iru




Bakuhatsu sunzenda yo
Afureru kibou wa
Kimi no…




Taiyou ni naritai yo!
Egao no okaeshi
Kimi ga kureta bun sore ijou
Waracchaou!
Taiyou o abi nagara
Ichimen ni saku kiniro o miyou yo
Issho ni itsumademo


Sansantaru sanzan naru
Zanzan ori koete
Sansantaru sanzen naru
SUNSUN hare abite
Kimi to ne sugoshita
Kinpika no Days


(Sun! High! Sun! High!)
(Sun! High! Sun! High!)

Community content is available under
CC-BY-SA
unless otherwise noted.