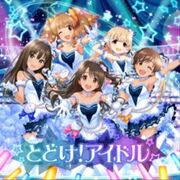 Performed by
Edit
Uzuki Shimamura

Rin Shibuya

Mio Honda

Kirari Moroboshi

Anzu Futaba
Yume o nosete jikuu koete
Todoke! AIDORU
Kimi no kokoro ni azayaka na
Toki o kizamu yo

Fly chizu wa nai kedo
Ikitai basho ga aru
Let me try namida no hi mo
PINTO awaseru yo

Dare mo ga tateru wake janai SUTEEJI wa
Takaramono mitai de
Kiseki mo SURIRU mo egao mo
Afuredasu kirameki

Yume o nosete jikuu koete
Todoke! AIDORU
Mukaikaze kakenukete
Kyou mo utau yo
Tsunagaru sora ameagari wa
Sagashite mite ne
Kimi no kokoro ni azayaka na
Niji o kakeru yo

Stay soba ni ite ne
Sabishii toki mo aru
Let me play ai o kasanete
Takaku JANPU shiyou

Itsudemo yasashiku terasu kimi no me wa
Michishirube mitai de
Mayoi mo itami mo yuuki ni
Kaete yuku kirameki

Omoi nosete yoru o koete
Todoke! AIDORU
Mirai kaze tsukamaete
Kyou mo susumu yo
Kurai yozora tsukiakari o
Miagete mite
Kimi no ashita ni yorisou you na
Hikari de itai

Tooku made tsuzuku kono michi no mukou




Itsuka kimi to tadori tsukitai yo




Taisetsu na mono dake atsumetara




Mahou no you na

 

fushigi na PAWAA de


Saa yuku yo!

Yume o nosete jikuu koete
Todoke! AIDORU
Mukaikaze kakenukete
Kyou mo utau yo
Tsunagaru sora ameagari wa
Sagashite mite ne
Kimi no kokoro ni azayaka na


Niji o kakeru yo



Nanairo no MAJIKKU wa


Song for you


Egao ni someteku
I'll be your "AIDORU"

Community content is available under
CC-BY-SA
unless otherwise noted.