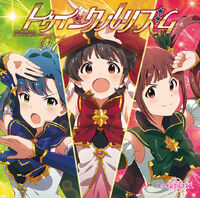 Tomorrow Program is an original song that first appeared in THE iDOLM@STER Million Live!: Theater Days. It is a image song of the unit Twinkle Rhythm.
Performed by
Edit
765 MILLIONSTARS ( Unit : Twinkle Rhythm )
Iku Nakatani (CV: Akari Harashima)

Yuriko Nanao (CV: Miku Itou)

Arisa Matsuda (CV: Rie Murakawa)
Fui ni WAIPU de nukareteku
Su no RIAKUSHON wa neta janainda yo...




TEROPPU bakari oikakete itara
Hontou no kimochi wa...hakechau






Agoashi made jibara datte kujikenai




ROKEchi mae nori de kuribitsutengyou saseru dake




Donna doihii na atsukai demo
Kitto...makenai yo 

namida wa "wara"ttoite


Itsuka TSEEban no DORUAI ni natte kanmuri bangumi
Te ni ireyou! 20% koete shimau kurai no...




Hinadan ni naran demo,

tachiagaru TAIMINGU




Miushinai tenpattari shinai yo






Itsudemo, hora...KANPE wa deterunda




Minna no hitomi ga PURONPU ni natte todoku kara




Gyoukai no yami ni momaretemo
Zettai...akiramenai 

C-chou de ganbarou


Hon no nai mirai kachinko ga hibiitara buttsuke
Susumu dake! Yabai kurai ukete obake bangumi mezasou




Tendon de kuru kanashimi mo

teppan de kuru kuyashisa mo




Kiregei janai, kaesu no wa itsumo...

 egao de




Doihii na atsukai demo
Kitto...makenai yo namida wa "wara"ttoite




Gachi de goisuu na... DORUAI ni naru tame ni, saa




Shichouritsu no mukougawa e to...

yukou!


Gyoukai no yami o keshisatteku
SUTAA no kagayaki...

hanatte miserunda


Hon no nai mirai RIHA nante nai ashita tte bangumi
Namahousou o tsukutte ikou dantoru no wa...

kimi da yo



Community content is available under
CC-BY-SA
unless otherwise noted.