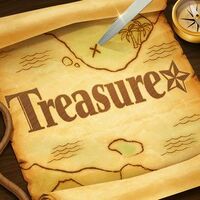 Treasure☆ is an original song and a "Dereraji☆xCINDERELLA PARTY!" collaboration song that made its appearance in THE iDOLM@STER Cinderella Girls: Starlight Stage. It's M@STER VERSION later released on THE IDOLM@STER CINDERELLA MASTER Treasure☆.
Performed by
Edit
M@STER VERSION
Uzuki Shimamura (CV: Ayaka Ohashi)

Rin Shibuya (CV: Ayaka Fukuhara)

Mika Jougasaki (CV: Haruka Yoshimura)

Mio Honda (CV: Sayuri Hara)

Riina Tada (CV: Ruriko Aoki)
Haruka kaze ni nori yume no hata o kakagetara
Saa kogidasou yo kagayaku ano shima e

Mukaikaze mo oikaze mo mikata da yo
Susumu yuuki o kureru




Oritatsu machi no hito deau egao
Asu no chikara o kureru




FURIIHANDO no mujaki na PAWAA de
Chizu o egaki umi o kaketeku



Arekuruu takanami miushinau hoshi




Rashinban no hari wa kowarete ugokanai



"Waa, doushimashou?"




"Docchi ni ikeba ii ka wakaranai…"




"Dame kamo shirenai…!"




"Mou daijoubu!"




"Tasuke ni kita yo!"



Onaji nami ni nori minna de te o tsunaidara




Mitsuke ni ikou niji no takarabako


Haruka kaze ni nori yume no hata o kakagetara
Saa kogidasou yo kagayaku ano shima e

Konnan mo gotagota mo heiki da yo
Norikoerareru kizuna




Ase kaite beso kaite tsunagu te to te




Kujikezu ni ganbaru yo




Irotoridori azayaka na kosei de




Niji o egaki umi o kaketeku



Arata na chizu mitsuke wakareyuku michi
Surechigau kokoro hanareteiku yubisaki

Chigau fune ni nori yuzurenai mono o mune ni
Saa migakiaou sorezore no omoi
Haruka kaze ni nori kimi no kagayaku hitomi ga
Tachimukau koto oshiete kureta kara

Kizuita yo kizudarake no te wa
Mirai hiraku tame aru no

Namida no sono saki juuni-ji no hougaku ni wa


GARASU nokutsu to azayaka na JUERU

Kirameku kutsu haki minna ni misete ageyou
Sou kimi ni shika odorenai DANSU
Haruka kaze ni nori jibun dake no kagayaki de
Hashitte ikeru kitto dokomadedemo

Community content is available under
CC-BY-SA
unless otherwise noted.