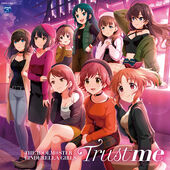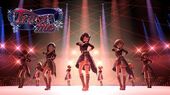 Trust me is an original song that first appeared on THE IDOLM@STER CINDERELLA MASTER Trust me. The song features the top idols from the results of 7th Cinderella Girls General Election in 2018.
Performed By
Edit
Nana Abe (CV: Marie Miyake)

Mio Honda (CV: Sayuri Hara)

Karen Hojo (CV: Mai Fuchigami)

Kako Takafuji (CV: Rana Morishita)

Fumika Sagisawa (CV: M・A・O)

Shiki Ichinose (CV: Kotomi Aihara)

Mayu Sakuma (CV: Yui Makino)

Hikaru Nanjo (CV: Sayaka Kamitani)

Hinako Kita (CV: Seria Fukugawa)
Noboritsumeta yue ni mieru
Dokomademo utsukushii sekai




Kono basho ni tateru no naraba
Tatakau koto wa osorenai



Kankaku o togisumashi Set on




Tanpaku o kettobashi Rock on




INPAKUTO koko ni uchikondara


Are you ready?

I am going to aim higher


Sukoshi demo wazuka demo


I will be everyone's target


Dare yori mo mae o muite




Sono kitai wa uragiranai




Ima wa
Trust me, and follow me



Isshun no yowasa ni tokeru




Furikaetta jibun no kage




Ichiban ni misueru mono wa
Eikou ni michite iru mirai



Dakyouten ni kousa suru tensen




Sono hitotsu hitotsu ga taida o assen




RAIN wa jibun de hikanai




Yaru nara mezase yo


"Saizensen"


Jibun no ibasho ga mitsukaranai




Sonna kangae hanakara nai




"Nantonaku?" kono jisho ni wa nai


Misetsukenda yo danchigai

I am going to aim higher


Kono ishi o kate ni shite


I will be everyone's target


Dare yori mo saki no hou e




Takusan no kotoba o mune ni himete susumu



Koukai suru koto wa nai ka?




Bankai no junbi wa ii ka?




Jibunjishin o genkai toppa




Ima kokoro ni hi o tsukero


"Hakka"

I am going to aim higher
Sukoshi demo wazuka demo
I will be everyone's target
Dare yori mo mae o muite
Sono kitai wa uragiranai
Kono utagoe ga hibiku kagiri
Issho ni aruite ikou
Ano hateshinai michi no saki e to
Wow Oh Oh Ah Ah

Community content is available under
CC-BY-SA
unless otherwise noted.