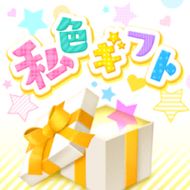 Watashi-iro Gift is an original song that first appeared as the ending song to the 17th episode of THE iDOLM@STER Cinderella Girls Anime. The full version of the song appears on THE IDOLM@STER CINDERELLA GIRLS ANIMATION PROJECT 2nd Season 02.
Performed by
Edit
Rika Jougasaki (CV: Nozomi Yamamoto)

Kirari Moroboshi (CV: Rei Matsuzaki)

Miria Akagi (CV: Tomoyo Kurosawa)

Mika Jougasaki (CV: Haruka Yoshimura)
Ano ko wa kawaii ne sono ko wa kakkoii na
Watashi ni pitari atehamaru keiyoushi wa nan darou?



Asereba aseru hodo hikari wa tooku miete
Chikamichi sagashi hashittara tsumazuitanda



Yarubeki koto nara yamahodo atte isogashikutte




Nayande ochikomu hima wa nai hazudashi ima wa mae dake miru yo



Ippo mae e sono ippo ga hikari e itsuka todoku
Kusamura demo arukeba hora michi ga dekiru

Toomawari to iwaretatte watashi wa seichouchuu
Shippai kurikaeshite "watashi-rashisa" migaite yukitai

SUPAISU ni naranai ADOBAISU wa iranai
Tokkuni wakari kitta koto iwaretemo hibikanai yo



"Ganbare" "ganbaru yo" marude aisatsu mitai
Jissai gutaitekini dou ganbareba ii?



Yaritai koto nara honno chobitto jiyuu ni natte




Achikochi yorimichi KUREEPU tabetari tamani yowane haitari



Dorekurai no kakugo areba doryoku wa mi o musubu no?
Dare mo ga kai kitai fuan daite susumu

Toomawari to iwaretemo ii keshiki tanoshimi nagara
Kono kaidanjou tte "watashi-rashisa" mitomete yukitai

"Hayaku watashi o mitsukete"




Tojikomotte naitemo

 

dare mo kizukeyashinai

 tobidase!

Anata dake ga watashi dake ga himete iru takarabako


Jibun no koto shinjita toki futa wa hiraku

Ano ko datte watashi datte kowai no wa kawaranai
Furueru ashi fumidase! "Watashi-rashisa" minna ni misetai

Community content is available under
CC-BY-SA
unless otherwise noted.