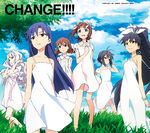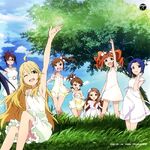 We just started is an original song that first appeared on THE IDOLM@STER ANIM@TION MASTER 04 NEW OPENING THEME "CHANGE!!!!".
Performed By
Edit
765 Productions
Miki Hoshii (CV: Akiko Hasegawa)

Takane Shijou (CV: Yumi Hara)

Ritsuko Akizuki (CV: Naomi Wakabayashi)
Tsumetai kuuki o me ippai suikonda




Junbi dekiteru ka? Kurubeki toki wa kita



Donna kekka demo kui nokoranu you ni




Demo maketakunai katsu IMEEJI o shiro



Kokoro no naka de sasayaiteru


(

Moshi mo...

) 

to iu koto dama

 kiai de furi harae!

Honki de norikoero
Honnou yo mezamero


Saa okusuru na yo kore wa tatakai nan da


Kagayaku SUTEEJI wa dare o matteru no ka


Sou dare demo nai

 bokura da

CHANSU hikikon da jibun o shinjiro yo




Sore de takaburu na yudan wa kiba o muku



Atama no naka ni yakitsuiteru




Koukai shita keiken

 oogoe de chirase!

Gokai o osoreru na
Gokan togi sumasero


toki hanate yo kore ga himeta chikara da


Hontou no kimochi o wakariaeru mono wa


Sou sasaeatteru

 bokurasa

Mou akiramete nagekanai




Namida wa kawaiteru


Nijindeta keshiki ga mieru!

Zutto yume ja iyadaro!
Zutto mezashitenda!


Saa tachiagare yo kore ga hiraketa michi da


Boku-tachi no mirai wa hajimatta bakarisa
Sou hashiri dashita bakarisa

Community content is available under
CC-BY-SA
unless otherwise noted.