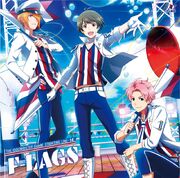 Ryo Akizuki

Daigo Kabuto

Kazuki Tsukumo
Saa shukkou! Yumeiro VOYAGER
Kibou no hata agete
Kyou yori subarashii ashita no taiyou o
Mukae ni yukou

Kokoro wa fushigi da ne dareka no egao ni
Shiranai aida ni ne genki o morau




Tanoshii kimochi wa sa densen surunda


Be Happy! 

Kondo wa boku ga warawasetai



Tsurenai ame ni utareta mama


Oresou ni natta yoru datte
Daijina ichi PEEJI

Saa shukkou! Yumeiro VOYAGER (Hi!)
Kibou no hata agete (Smile!)


Mainichi ga tokimeki ni michiteku


Saikou! Datte sou omoeru (Hi!)
Shunkan o sagasou yo (Try!)
Kyou yori subarashii ashita no taiyou o
(Welcome to my dream)
Mukae ni yukou

Kokoro wa sa shoujikisa jibun no kimochi o
Ichiban shitte iru donna toki demo




Nano ni ne yakkaida kamen o kabutte


Be Silent! 

Hontou no boku o kakushiteita



Massugu nobiru dake no michi ja
Kitto taikutsu soreru no mo
Omoshiroi ichi PEEJI

Saa RISUTAATO! Nankaidemo (Hi!)
Yuuki no hata agete (Smile!)


Ippome o fumidaseba iinda


Zettai akiramenai (Hi!)
Chousenshi tsuzukereba (Try!)
Kyou yori atarashii jibun ni deaeru yo
(Welcome to new world)

Saa shukkou! Yumeiro VOYAGER
Kibou no hata agete


Mainichi ga tokimeki ni michiteku


Saikou! Datte sou omoeru (Hi!)
Shunkan o sagasou yo (Try!)
Kyou yori itooshii ashita ni narimasu you ni
(Welcome to my dream...la la)
Sousa suteki na kakumei no tabi e to
(Welcome to new world)
Issho ni yukou!

(Ah)
Kimi ga ireba
Kowakunai yo We can go anywhere

Community content is available under
CC-BY-SA
unless otherwise noted.